One path, a thousand views
You can hike along numerous trails in Bariloche. It doesn't require any previous experience when accompanied by a mountain guide but it does require physical fitness and a willingness to cope with any unexpected hurdles that may come up during the expedition.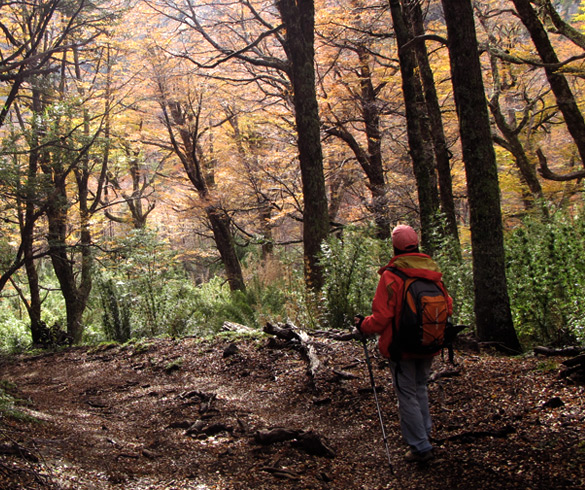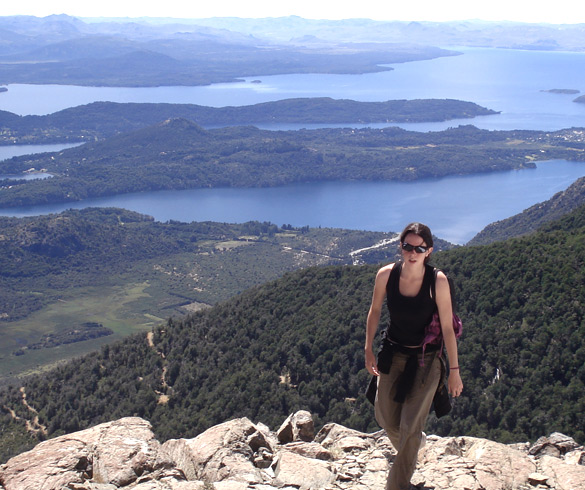 The duration of the hike can last one day but there are also shorter trails that are more suitable for families with young children.
Before setting off it is essential that you obtain accurate information on the condition of the trails and the varrying difficulty levels. If the tour is within the Nahuel Huapi National Park, the trekking tour needs to be registered in advance.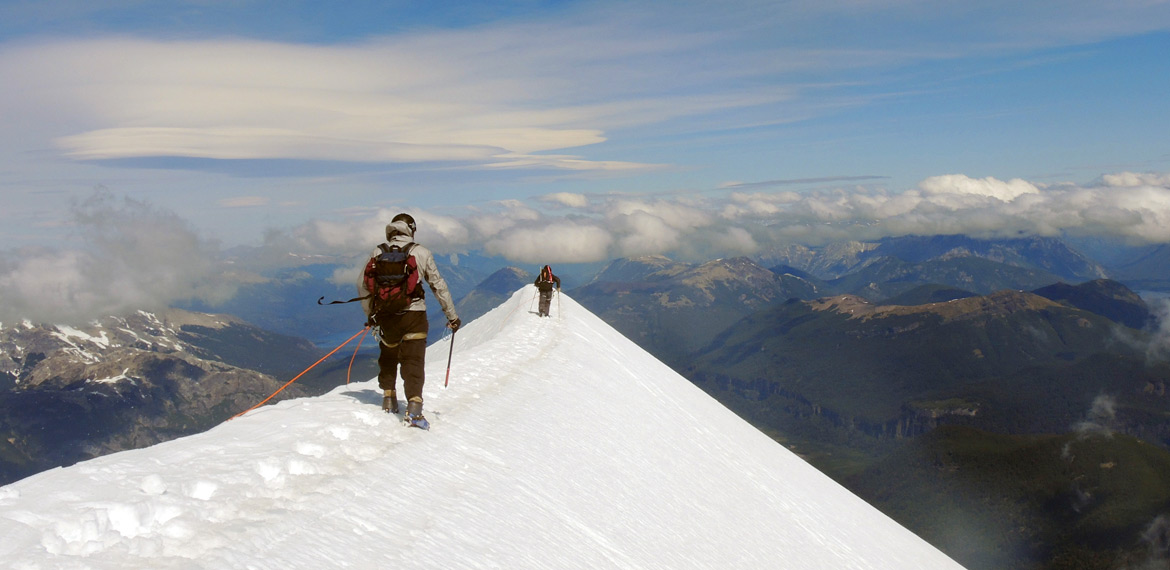 Mount Llao Llao and Villa Tacul
A beautiful hike through the woods with incredible scenery from Mount Llao Llao's viewpoint. From there, you can continue to Villa Tacul and enjoy its beaches, ideal for diving and spending a beautiful afternoon.
López Bay
A simple and pleasant hike, ideal for those new to trekking. The most outstanding are the spectacular views of Brazo de la Tristeza, López Bay and the East slope of Mount Capilla.
Escondido Lake
A beautiful tour consisting of two trails that can be combined: Escondido Lake and Romano Bridge. During the first hike, you will cross right through the Coihues Woods with its characteristic formations of natural tunnels. You will reach the lake which is known for it's warm water in the summer. You can then continue on to Troncos Bay, where there's an incredible view of Mount López, Mount Capilla, Mount Bahía López and the origin of Brazo Tristeza.
Also, the Romano Bridge offers a nice short walk leading to an old stone bridge built by the National Parks Administration back in 1937.
Four Lodge Tour
The Andean hike tour which visits the Frey, Jakob, Laguna Negra and López lodges. A trail for the adventurous among us who want a physically and technically demanding experience. Hikers spend the night at the lodges, that serve dinner and breakfast. The hiking tour may be taken in full or in parts.
Mount Tronador - Pico Argentino
Situated 3,554 meters (11,660 ft.) above sea level, Mount Tronador is the highest peak in the Nahuel Huapi National Park. The view from its summit is unrivaled. It provides an excellent opportunity to practice mountain hiking. Don't forget to take crampons and pikes.
Double Andes Crossing
A tour that covers the history and culture of an entire community. South of Mount Tronador, you can visit the legendary Vuriloche Crossing, tracing the steps of the Jesuits along their mythical route, once used to reach the Nahuel Huapi lake. During the tour you can visit self-sustainable villages, as well as hot springs and sites reserved only to a handful of visitors.

Once you've crossed over to Chile, you will arrive at a picturesque village called Cochamó. Coming back along the Andes to El León crossing you will reach the Manso River,it has so many rapids and falls that its name seems inaccurate ("Manso" means "placid" in Spanish.)
Huella Andina
The Huella Andina project is the first long trail in Argentina and was started in 2010 as a joint initiative by the Federal Ministry of Tourism (MINTUR) and the Directorate of Offer Development.
Huella Andina's main trail varies between low to medium in difficulty and covers approximately 540 km (335 miles) from Villa Pehuenia, in the Province of Neuquén, to Baguilt Lake in Trevelin, Chubut Province. It passes through the outskirts of different towns and villages, including Junín de los Andes, San Martín de los Andes, Villa La Angostura, San Carlos de Bariloche, El Bolsón, Lago Puelo, Cholila and Esquel. It also tours the Lanín, Nahuel Huapi, Arrayanes, Lago Puelo and Los Alerces national parks, in addition to certain provincial reserves and public and private land.
It runs in parallel with the biological corridor of the North-Patagonian Andean Biosphere Reserve.
For more information, see Huella Andina